Cheshire Motorsports Suspension Service.
Authorized Öhlins dealer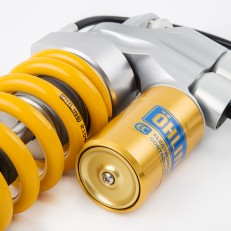 Suspension is the most commonly overlooked component on a motorcycle. Proper service intervals are rarely adhered to, however, your motorcycle's suspension is one of its most important pieces to consider. You wouldn't run a worn out tire, yet your forks and shocks are just as important for proper grip. Regular suspension services are paramount in achieving proper motorcycle safety and performance whether it be dirt, street or track. Cheshire Motorsports is equipped and trained in modern suspension service and overhauling, performing most tasks in house. Consider making an appointment for your motorcycle's suspension today.
Suspension service, repair and upgrades available in house
Öhlins 30mm cartridge kits
Shock upgrades/replacement
Suspension set-up and assessment. Re-springing, valving as needed
Maintenance and repair of forks and shocks